RoHS –
RoHS is the Restriction of Hazardous Substances and limits the use of 6 hazardous materials used in the manufacturing, production and assembly of electronic equipment and devices.  Similarly recognised as Directive 2002/95EC the standards apply to all electronic and electrical equipment bought and sold in the EU market after July 1st 2006.  After this date all electronics must be RoHS compliant in order to meet the European markets' legislation.
RoHS non-compliant materials are Lead, Mercury, Cadmium, Hexavalent Chromium, Polybrominated Biphenyls, and Polybrominated Diphenyl Ether.  Here at GB Circuits we fully recognise the directive and make sure all our printed circuit boards are RoHS compliant.  We can also permit non-RoHS compliant PCBs if the purpose is RoHS exempt.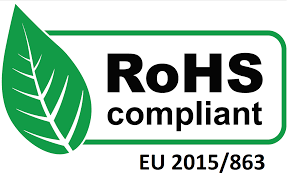 RoHS 3 DIRECTIVE 2015 Statement GB Circuits 2019
REACh – Registration Evaluation Authorisation and restriction of Chemicals
REACh has the objective of refining the safety of human health and just as important the environment, through way of identifying the specific properties of chemical substances.  The way REACh works is in its name; Registration Evaluation Authorisation and restriction of Chemicals.
The responsibility is placed upon the manufacturers and suppliers to provide substance information and forward this to the ECHA, European Chemicals Agency, which enables less harmful usage and management of the chemicals.  The ECHA consolidates all information, manages the databases and coordinates specific evaluation upon hazardous or suspicious chemicals allowing public access to this information.
Information on REACh can be found on the ECHA website, otherwise contact us directly and we'll be happy to help with guidance.
Conflict Minerals
Conflict materials are mined and sourced from areas such as the Democratic Republic of Congo where there is a direct threat from armed conflict and human rights abuses.
Materials such as Gold, Tungsten, Tantalum and Tin are considered conflict materials as these are widely sourced from this region by armed forces such as FDLR and FARDC.
Artisanal miners usually work singularly without being officially employed and form almost 80-90% of all mineral production coming from these parts.
Here at GB Circuits we strive to protect these areas from further abuse by sourcing all materials from non-conflicted areas, which all documentation and evidence towards this can be provided at your request.